Ventilation/Air-conditioning
The basic function of all comfort ventilation installations is establishing and continuous maintenance of air comfort in the serviced premises. Comfort means not only and adequate temperature or humidity, but also appropriate volume of air exchange which affects health, well-being and work efficiency of people working in such premises.


Completeness of our offer …
… allows realisation of the targets mentioned above, by merging execution of an appropriate installation, its optimal control and monitoring.

We deliver and assemble: ventilation air handling units, heat recuperation handling units, duct fans, roof- and wall-mounted, radial ventilators, smoke exhaust fans, chemo-proof, refrigerating units for ventilation air handling units, air curtains, duct heaters, ventilation grates and ducts.
We also make the variable air volume systems with pressure/output regulation – basing on proven solutions.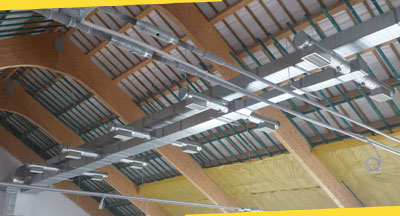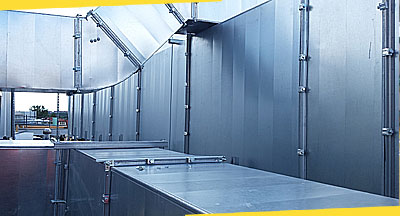 Heat Recuperation System…
… allow heat energy recuperation contained in the air extracted from the premises, so they decrease the demand for heat or chill necessary to reach the assumed temperature of the air taken into the premises.
Various types of recuperation mean various performance (from 70 to even as much as 95%), but also various degrees of mixing of both air streams.
You got questions: email us
More cleaner air…

Cassette, duct or stand-alone filtering devices which use the nanotechnology for active cleaning of the air.
RCI (Radial Catalytic Ionisation) Technology
of air filtering is modelled after processes existing in nature, which liquidates microbiological hazards, eliminates arduous smells and alleviates allergy symptoms.
You got questions: email us